Click here to jump to EZ Latch ordering instructions.

The EZ Latch fits a wide range of gates including the Steel Board Gates and any other vinyl, wood or pipe style gate. It includes provision to lock the gate using a standard pad lock and a convenient loop to hang the lock when not in use.

This "horse proof" latch will prevent even the most curious horse intent on escaping from opening the gate. The EZ Latch assembly is cleverly designed with many unique features including:

Two-Way Operation
Allows gates to be opened or closed from either direction while on your horse. The internal heat-treated alloy-steel drop-plates are lifted with a finger to open and drop when the gate is thrown closed.
Prevents Gate Lean
A stainless steel latch plate upon which the latch pin rests when the gate is closed, alleviating the weight on the gate post.
Corrosion-Free
Latch pin end made with shock absorbing rubber bushing covered with a stainless steel contact roller. Corrosion resistant washers are included for adjusting the pin horizontally up to 1.5 inches. The entire powder-coated housing is made in a strong cast-aluminum alloy.
Fully Adjustable
Latch housing has upper and lower mount bosses that enable vertical adjustments anytime during and after installation. The mount-pin is furnished with 7 thick adjustment-washers to allow proper pin-to-latch engagement.
Padlock Slit (picture below)
The housing has a slit in the upper right if you wish to use a lock. This will keep both drop-plates down, not allowing the gate to be opened in either direction.

EZ Latch padlocked via slit.


EZ Latch in closed
position with latch pin
resting on latch plate.

The EZ Latch includes the latch pin assembly, an internal mounting plate and hardware.

Latch pin assembly.

Like the Steel Board fence, the EZ Latch is offered in textured-black and gloss-white powder-coat. The versatile design makes it easy to use on most wood or vinyl fence systems, including any round-pipe post, as well as the Steel Board fence system. With the EZ Latch your gate will be held closed securely and can be opened only by you and not your horse.

EZ Latch Materials

Powder coated aluminum housing (texture black or gloss white)
Stainless steel rest plate
Roller pin
Latch pin
Mounting fasteners
Heat treated alloy drop-plates powder-coated black

Latch Housing Dimensions

Thickness: 2.17″
Width: <4.5″
Height: <12″
Slot Centers: 9.25″
Recommended Gap (inside-face of post latch housing is mounted on to inside-face of gate):
3″ +/- 0.25″

Customer thoughts on the EZ Latch

These are the best latches available! Your customer service is above and beyond all expectations!
Thanks again!

April Simons BS, CVT, VTS (Anesth/Analgesia)
Oregon State University, College of Veterinary Medicine

For installation instructions, click here.
Call us today to order an EZ Latch 877-306-4024.
---
Swinging Gate Latch
EZ Latch and Ground Anchor combination for dual gates.


An EZ Latch housing is mounted onto the gate with the ground anchor. This allows for quick opening and closing of one gate and the ability to open both when needed.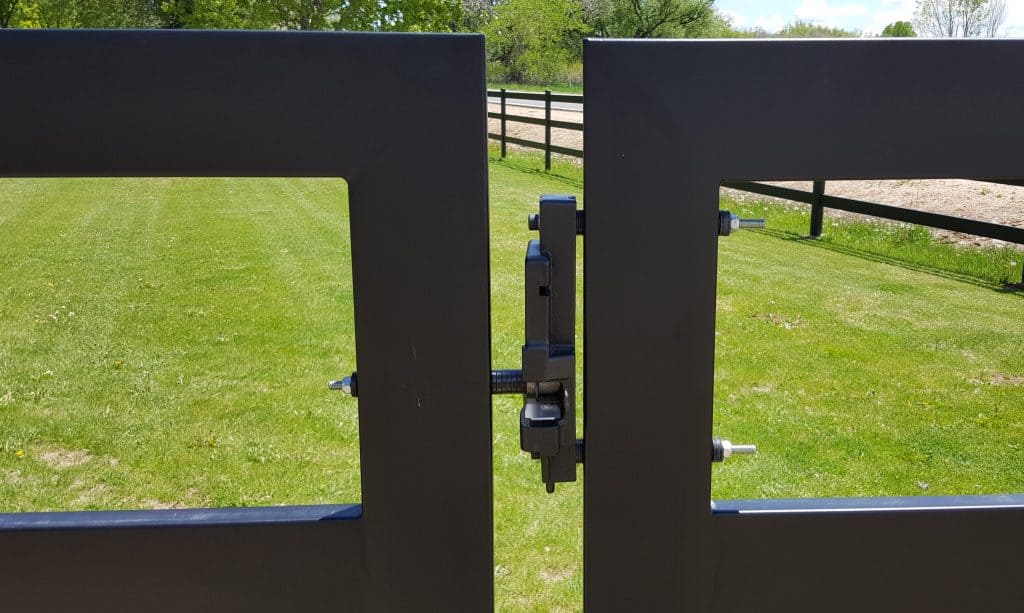 This is mostly used for setups where you need the dual-gate opening-width to move equipment in and out, but frequently have people and horses moving through only one of the gates. The EZ Latch even allows a rider to open and close the gate while still on their horse.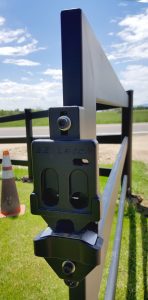 EZ Latch mounted on Steel Board Gate.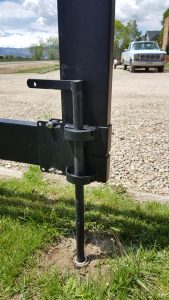 Ground Anchor mounted on gate.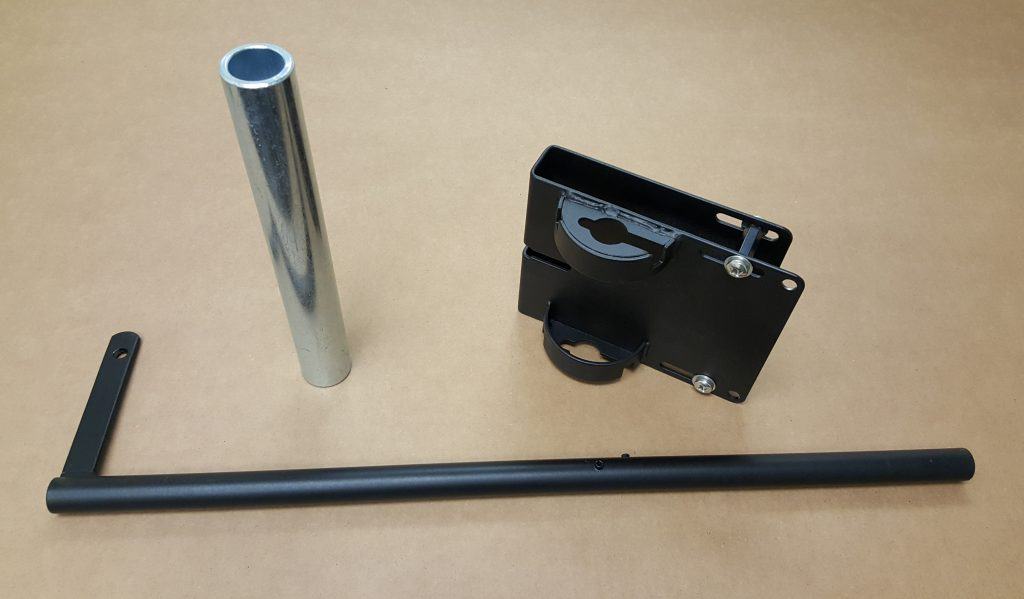 Ground Anchor tube, mount, and rod.
Many customers order a second ground tube per gate to hold the gate in both the open and closed positions.
For installation instructions, click here.
---
Call us at 877-306-4024 or email Sales@BuckleyFence.com today to order EZ Latch and Buckley Fence products.
EZ Latch Orders
To purchase exactly what you need, please answer these 4 questions:
1. Would you like the EZ Latch housing in textured-black or gloss-white?
2. The housing will be mounting to a:
a. Wood post
b. Small diameter (under 3") steel post
c. Hollow post larger than 3" diameter
d. Buckley Fence post
3. What will the latch-pin assembly be mounting to?
a. The gate down tube is under 3" in width that the pin goes through
b. The gate down tube is over 3" in width that the pin goes through
c. A Buckley Steel Board gate
4. What is the exact ship-to address that can take a UPS box?
Pricing
An EZ Latch is $50 and comes with:
EZ Latch housing, mount plate, SS mount bolts and washers, and either a long or short pin.
If no mount plate is needed, price is $45.
Shipping
Cost depends on the ship-to address and number of latches. This will be calculated at time of the order.
Most orders will go out same day with photo proof of the check sent before mailing.